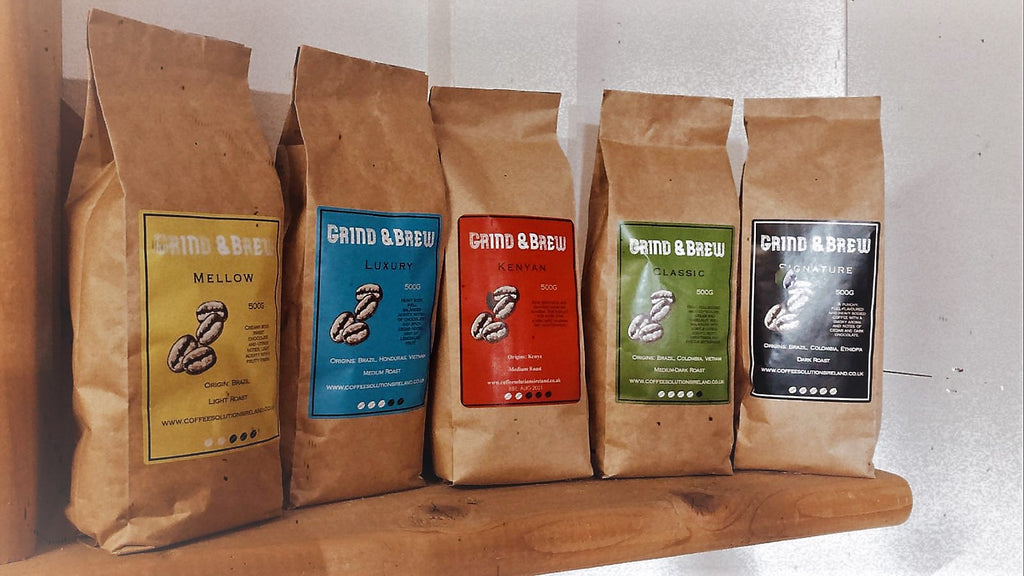 GRIND & BREW BLENDS
At Coffee Solutions Ireland we are proud to launch Our Own Range of Coffee Beans. The new range called GRIND & BREW  which consists of 5 BLENDS, including whole bean and roast and ground.
Meet our New Range
Mellow - Luxury - Kenyan - Classic - Signature
We have been working with a local coffee roaster to develop this exciting new range. Coffee Solutions Ireland have over 20 years experience in the coffee business and have witnessed a change in its customer needs, our aim is to make sure our coffee is the best it can be.
We are very pleased to be able to provide our premium high-quality Grind & Brew Coffee to businesses and home users as the range will be sold in 250g bags of Ground Coffee. 
GRAND TORINO BLENDS
Grand Torino is a Great Blend , we stock three different strengths roasted to perfection each batch of specialty coffee, they are very selective in sourcing the best premium green beans from estate plantations.

Their small roasting batches, fresh premium products and competitive pricing ensure that you have a pleasant coffee experience.
We have recently added to this collection Grand Torino Rainforest Alliance Roast Espresso Bean.
Private Label Your Own Coffee... available with this Brand!!!!!

We are able to offer our coffee shop and deli customers the opportunity to sell their 'own brand' coffee in retail packs.
We have a range of packaging options, with Kraft packs, foil pack, with minimum private label coffee batch quantities, just contact us to explore all the options available.
Locally Roasted & Specialty Coffee