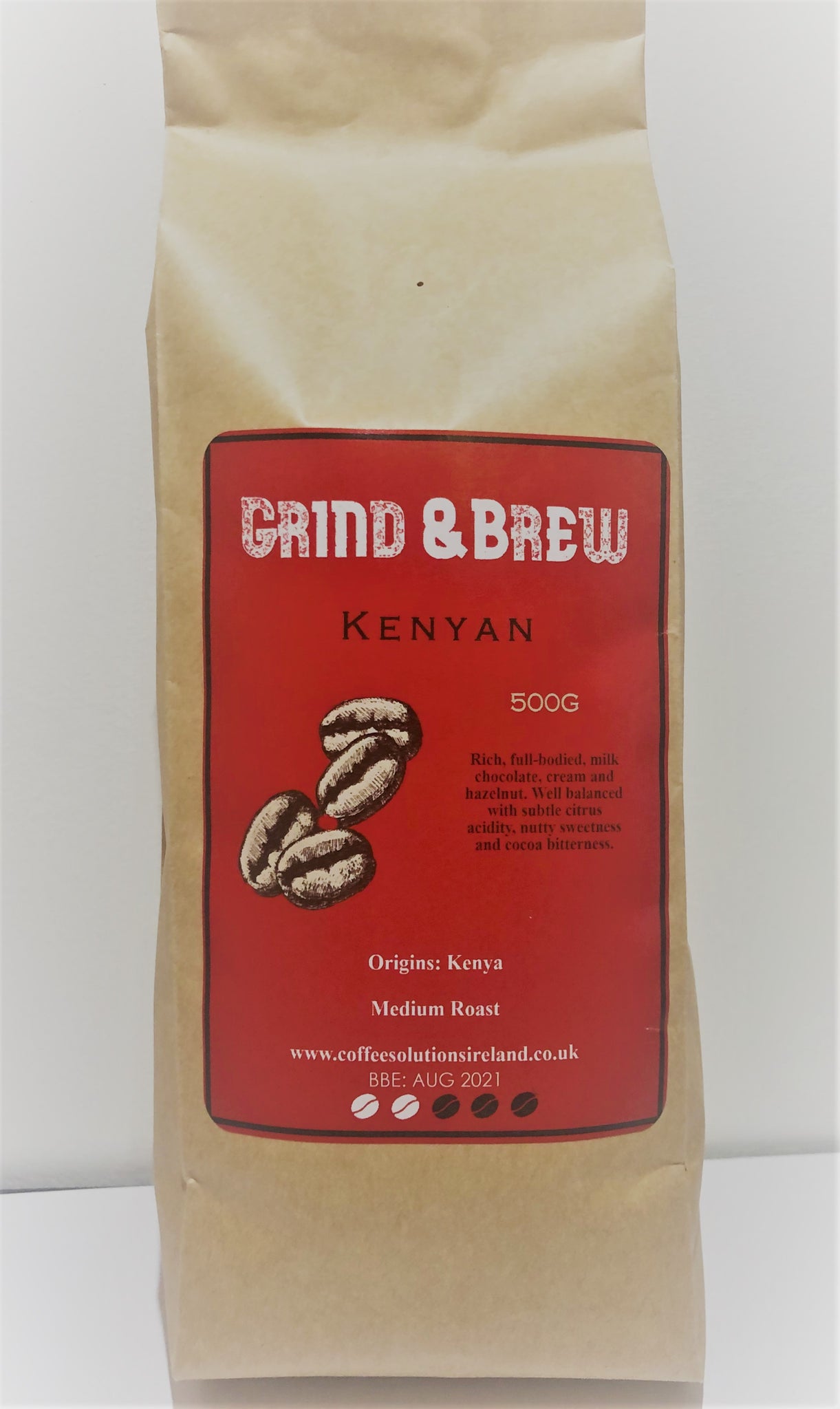 Meet One of Our Specialty Coffees ~ Single Origin Kenyan Bean
Grind & Brew Kenyan Blend Beans
Tasting Notes: Our Grind & Brew Kenyan Blend is rich full-bodied, milk, chocolate, cream and hazelnut. Well balanced with subtle citrus acidity, nutty sweetness and cocoa bitterness
Roast: Medium Roast
Origins: Kenya
Beans Type: 100% Arabica
Strength: 2/5
About The Coffee
Kenya also happens to be one of the largest coffee producers in the world. If you haven't gotten your hand on a bag of Kenya beans and don't know where to start, don't fret. Our Grind & Brew Beans are here to offer some insight on what makes Kenyan coffee special and deserves your attention. 
Coffees from Kenya can exhibit a number of nuanced flavors, especially to a trained palate paying close attention. Look for hints of berries, lemongrass, and bergamot. The flavors are bright with a deep acidity, but you don't need to be a trained coffee connoisseur to notice the differences between a nice cup of Kenyan coffee and something  you might get at the drive-thru.
Quick Facts
Soil: Red volcanic soil in the areas where coffee grows best
Growing Altitude: 1.7km – 1.8km on mountainsides
Milling Process: Wet processed
Sold in 500g Bags
Coffee can be broadly defined as specialty or commercial grade. From the consumer's viewpoint, the most immediately noticeable difference between commercial and specialty coffees is packaging: Commercial coffee comes in little bottles of instant or is already ground and packed in a tin or a collapsed, plastic-encased brick. Specialty coffee is stored or delivered as whole beans, either in one-pound bags or in bulk, and needs to be ground before it is brewed.
Commercial coffee is usually roasted and packed in large plants, under nationally advertised brand names. Specialty coffee is usually roasted in small stores or factories, using traditional methods and technology, and is often sold where it has been roasted.
Specialty coffees offer considerably more choice than commercial coffees. You can buy coffee by the place where the bean originated (Kenya, Colombia), by roast (French roast, Italian roast), or by blend designed for the time of day, price, or flavor. 
Specialty coffees offer more opportunity for consumers to participate in the creation of their pleasure.
To purchase click on the link below ~
https://coffeesolutionsireland.co.uk/products/copy-of-grind-brew-classic-blend-beans-2
---
In Same Category
Related by Tags
0 comments