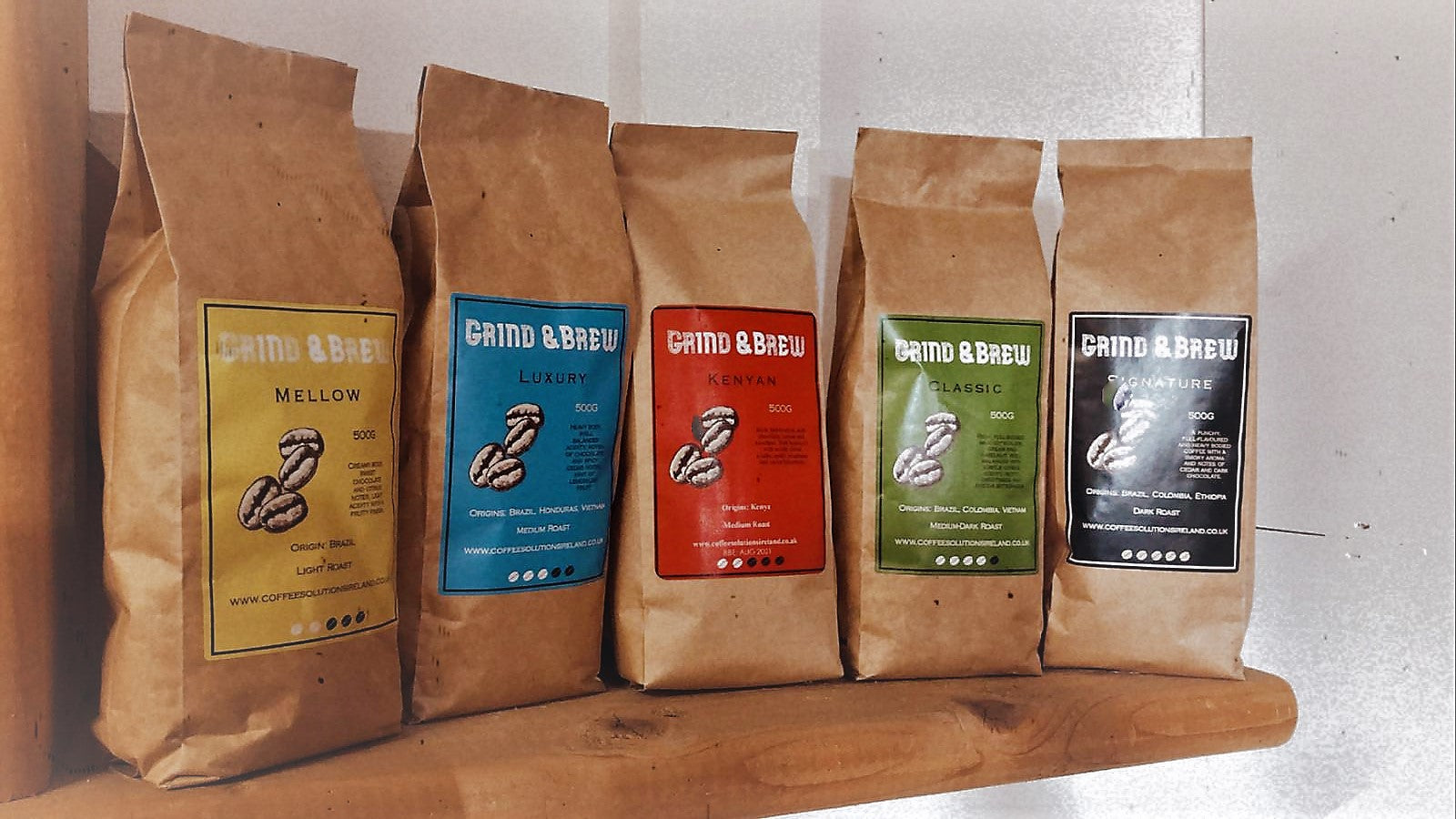 At Coffee Solutions Ireland we are proud to launch Our Own Range of Coffee Beans. The new range is called GRIND & BREW which consists of 5 BLENDS, including whole bean and roast and ground.
Meet our New Range
Mellow - Luxury - Kenyan - Classic - Signature
We have been working with a local coffee roaster to develop this exciting new range. Coffee Solutions Ireland have over 20 years experience in the coffee business and have witnessed a change in its customer needs, our aim is to make sure our coffee is the best it can be.
We are very pleased to be able to provide our premium high-quality Grind & Brew Coffee to businesses and home users as the range will be sold in a 250g bag of Ground Coffee, so you can wake up every morning to the aroma of freshly ground coffee
COFFEE GUIDES
A cup of coffee can take you all the way around the world without leaving your coffee shop or home.
Honduras
 ~If you ever have the opportunity to track down some quality, high-grade Honduran coffee, definitely give it a sip! It can be fun to try beans from different elevations and to see if you can taste any difference between them.
Kenya
~Coffees from Kenya can exhibit a number of nuanced flavors, especially to a trained palate paying close attention. Look for hints of berries, lemongrass, and bergamot. The flavors are bright with a deep acidity, but you don't need to be a trained coffee connoisseur to notice the differences between a nice cup of Kenyan coffee and something you might get at the drive-thru.
Brazil
~We're not talking about the size of the country here. Brazil's coffee production is huge. The country is responsible for about a third of coffee production globally (making it both the biggest coffee producer and exporter by far). In 2015, that totalled 36.89 million bags of 60kg. Can you imagine how many coffees that makes?
Columbia
~A lot of the coffee that originates from Colombia is grown on small family-run farms. Many of these farms are smaller than 12 acres. There are roughly half a million families working incredibly hard to bring us these tasty green beans.
Colombian coffee is made using 100% arabica beans, even though they yield less than robusta. There's a strong emphasis on quality, due to the way the entire coffee industry is setup in Colombia.
Ethiopia
~Ethiopia has a lot to offer to a curious coffee-drinker, from unique flavors to an interesting history. It's one of the premiere sourced for high-quality coffee, and the unique conditions lend themselves to a very bright, flavorful cup that can't really be replicated anywhere else in the world.
Vietnam
~Coffee connoisseurs will tell you that the only bean worth brewing is the Arabica bean. But Vietnamese coffee, whether Arabica or Robusta, is notably robust, aromatic, and unique, making this coffee worth trying out, regardless of its humble beginnings. 
Discover
In the end, a light, medium or dark roast is as much a matter of personal taste as a matter of intrinsic quality of the beans. Buy what is closer to your taste. 
Some of our customers have already bean lucky enough to have tried our 'New Grind & Brew Blends' and the response so far has been fantastic. 
If you have any suggestions or feedback, please get in touch…we'd be delighted to hear from you.
Click on the link below to discover our New Grind & Brew Blend
https://coffeesolutionsireland.co.uk
---
0 comments