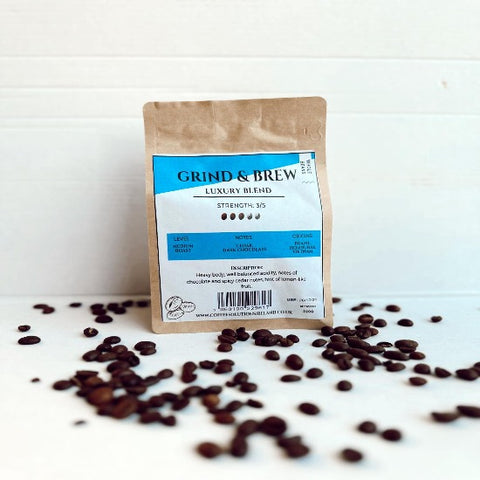 Grind & Brew Luxury Blend Ground 220g
Grind & Brew Luxury Blend Ground - Now in a handy 220g bag so you can wake up every morning to the aroma of freshly ground coffee Tasting Notes: Our Grind & Brew...
Grind & Brew Luxury Blend Ground - Now in a handy 220g bag so you can wake up every morning to the aroma of freshly ground coffee
Tasting Notes: Our Grind & Brew Luxury Blend is heavy body, well balanced acidity, notes of chocolate and spicy cedar notes, hint of lemon-like fruit.
Roast: Medium
Origins: Brazil Honduras Vietnam
Beans Type: 70% Arabica 30% Robusta
Strength: 3-4/5

Ideal for using with: Cafetieres,  Stovetop,  Aeropress Coffee Maker
About The Coffee
Brazil Natural 17/18 NY 2/3 SSFC
Brazil is a well-known coffee producing giant. They source around one-third of the world's coffee, making them the largest coffee producer in the globe! Of course, most of this is lower grade Arabica. However, this country is capable of producing specialty coffees.
This particular type is a standard specialty quality coffee. It is dry-processed, meaning the beans are patio-dried while they are still in the cherry. Since the coffees are dried in contact with the sweet mucilage, the coffee's cup profile will be heavy in body, sweet, smooth, and complex.
Region: Mogiana, Sul de Minas, or Cerrado (Or a blend of regions)
Growing Altitude: 800 – 1350 m.a.s.l. (Depending on blend)
Arabica Variety: Mundo Novo, Icatu, Acaiá, Catuaí, Tupi
Harvest Period: May – August
Milling Process: Natural Process
Honduras SHG EP
The country of Honduras is a suitable location for coffee harvesting. The soil, climate, and conditions in Honduras are the same as neighboring countries. There is a range of coffee quality from Honduras; the country can produce a lower-cost Central American blender coffee, to high-grown specialty lots that rival more popular Central American coffees. This particular type is more complex than its HG counterpart; thus making it a specialty coffee.
In the past, Honduran coffee growers trafficked their beans into Guatemala; where they would sell for a higher price, because of Guatemala's coffee reputation. After government tax on coffee exports started to play a role in the coffee business, the country boosted production and dramatically improved their coffee quality. Since then, demand has increased and selling coffee across the border has become unnecessary. Presently, coffee producers and Honduras government have made it a mission to improve the quality of coffee.  Laws have been passed giving fiscal incentives to coffee producers and highways have been built to access remote coffee growing regions. 
Region: La Paz, Marcala
Growing Altitude: 1350 + m.a.s.l
Arabica Variety: Catuaí, Caturra, Pacas, Bourbon
Harvest Period: December – April
Milling Process: Washed
Vietnam WP Grade 1 Scr 18
Vietnam has a right to be proud of its rank when it is the world's top producer and exporter of robusta coffee, accounting for around 70 percent of the total robusta volume purchased worldwide. Thanks to its affordable cost and frequently available sources, Vietnamese robusta coffee has played an extremely important role in the supply chain for many large coffee roasters like Nestlé. Screen 18 is the largest screen size available in Vietnam coffee meaning larger beans which is linked to higher quality. G1 (Grade 1) signifies the best quality coffee with very few defects.
The wet polished process unique to Vietnam gives a cleaner cup than other naturally processed Robusta coffees.
Region: Various

Growing Altitude: 730 masl
Acidity: Low
Body: Heavy
Harvest Period: October - February
Milling Process: Wet Polished
Quantity: 220g Bag